Armin Kech – CoE Lead Data Governance | Director | Group Data Services | Swiss Re Management Ltd
Armin Kech is a results driven executive with 16+ years' corporate experience in leading and operationalizing Data Management and Data Governance programs in Financial Services (Insurance), Information Technology and Media industries across the Middle East and Europe. He has a strong interest in value creation, operational excellence, and innovation. Armin holds a Diploma degree in Business Informatics from Reutlingen University in Germany. At MBC Group, Armin is heading up the Groups Data Governance department where he is implementing the Data Governance strategy to support the digital transformation of MBC Group. In addition, he is managing the Groups effort of becoming compliant to GDPR and other emerging Data Protection regulations in the MENA region. Before joining MBC Group, Armin was working for Zurich Insurance and Microsoft in Switzerland. During the weekend, he likes to play tennis, explore the region and spending time with his family.
Abdulrahman Ibrahim – Chief Data and Innovation Officer | Madinah Region Development Authority
Abdulrahman Ibrahim is the Chief Data and Innovation Officer at Madinah Region Development Authority (MDA). He first joined MDA as the Chief Socio-economic Development Officer. He is a board member of state-owned Saudi companies. Prior to joining MDA, Abdulrahman was a CEO in the private sector with 22 year experience in various industries, such as Consumer Goods, Food Manufacturing, Medical Supplies, and Supply Chain, where his operations covered the Middle East and Africa. Under his leadership at MDA, Madinah was ranked 4th regionally and 73rd worldwide on the IMD Smart City Index 2021. Moreover, Madinah was accredited by the World Council on City Data as an Early Adopter among the first ten cities worldwide in ISO37122 Smart City Indicators. Abdulrahman is the co-author of 'Cities in a Time of Global Emergencies: Can smart cities help?'
Dr. Hayfa Bu Hazzaa – Team leader (Data Governance and Business Processes) | ADNOC Group
Dr. Hayfa Bu Hazzaa is a data governance leader with 17 years of successful experience in the energy sector. Possess a strong desire to assist organizations in developing and sustaining a sustainable competitive advantage through the advancement of their information management capabilities. She has solid experience leading successful teams, programs, and projects in the Data Governance, Enterprise Information Management, Enterprise Architecture domains, Enterprise Performance Management and SCADA. Her academic and professional qualifications include a doctorate's degree in Business Administration, Bachelor's Degree in Computer engineer, Digital Business Transformation Management Certificate, IBM Data Science Professional Certificate. And several professional credentials from industry-leading institutions.
Mohamed Elmaki – Head of Data Platform and Analytics | Opontia
Head of Data Platform and Analytics at one of the most growing startups in the region Opontia, more than 11 years of experience in building data driving organizations.
Greg Hanson – Evangelist & VP EMEA & LATAM | Informatica
Greg Hanson has over 24 years experience within the world of data. Since joining Informatica in 2000 he has led hundreds of data initiatives with Informatica's clients and partners. More recently, he has contributed to Informatica's vision, go-to-market strategy, and customer success as EMEA and LATAM CTO. He regularly presents for Informatica and has a passion for discovering innovative uses for Informatica's platform and ways for data to power business. Prior to joining Informatica Greg oversaw project management for delivering data warehouse and analytics solutions at Consignia.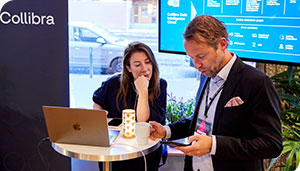 March 8 @ 09:50
Plenum – Morning | Day 1
Abdulrahman Ibrahim – Chief Data and Innovation Officer | Madinah Region Development Authority, Armin Kech – CoE Lead Data Governance | Director | Group Data Services | Swiss Re Management Ltd, Dr. Hayfa Bu Hazzaa – Team leader (Data Governance and Business Processes) | ADNOC Group, Greg Hanson – Evangelist & VP EMEA & LATAM | Informatica, Mohamed Elmaki – Head of Data Platform and Analytics | Opontia